Don't Stop, Get it, Get it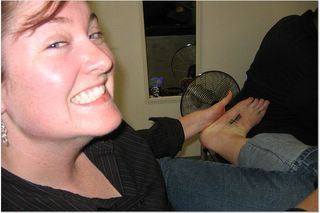 Guess what I got last weekend?! A tattooooo (it means poem and art in ooooold Irish). It was surprisingly not as painful as I expected it to be, or really all that painful at all. A few times, I busted out with a bit of the Gorillaz' to take my mind away from the itchy feeling that I was getting, but that was about it. And I came with support, too. Eia and Dem were on either side of me-- Eia totally prepared to let me squeeze the everloving hell out of her hand because, hello needles, meet my foot; and Dem on the other side prepared to keep talking through the whole thing because, hello needles! Meet my foot! A lot of times. The talking helped, but Eia's hand remains unscathed.
Afterward, we went to dinner with Leo and Jack and it was yummy! And I got presents! And singing! And cookies with candles because... happy Birthday to meeeeeee!