What's a One Syllable Word for A Bunch of Random Nonsense? Long.
On the school front...

I have had two midterms this week. Midterms in art school are odd-- usually its just projects, projects, projects all the time and I sometimes lose sight of the fact that... um, I'm learning here.

The first midterm: I kicked it in the shins and stole its lunch money. Awesome. The second midterm: Bombed. Tanked. So much less than awesome. The test was based on the book! A book? For Quark! Inadvertently, I opted for the osmosis theory of learning as I fell asleep by page 19 and had the remaining 557 pages digging into my side. Ow and oops.


Enough with school, on with fun--

Bunny, Eia's boyfriend, hosted a pumpkin carving party for a few of his friends last weekend. We invaded, as we do. But what's a pumpkin carving party without a little competition?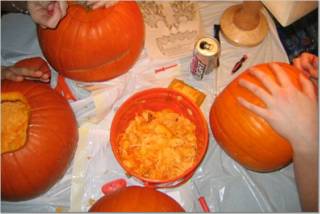 Here you see a top shot of our table-- we are all so diligent in our tasks! We were also singing quite a bit. And there may or may not have been some beer and Pumpkin Punch Pizzazz involved.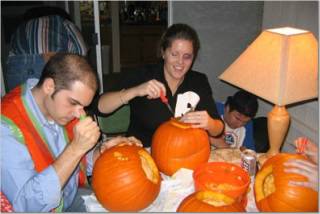 You may think this picture demonstrates how hard at work Leo, Eia and Jack were and how happy they were doing it. I think, most importantly, it serves as a nice introduction to Bunny's ass.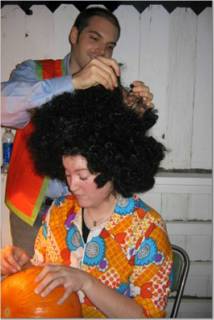 Leo took an old school approach to his pumpkin, knocking it out suupah fast. In an effort to fill his time, he took to cleaning up my 'fro. Here he is, looking for a few good eats like a fine young howler monkey. Please note his vest-- Duct Tape party wardrobe requirements provide fantastic Halloween costumes!


And after all the primping, I show it such disrespect. Dem points this out with a resounding "Don't think you don't have pumpkin in your hair!"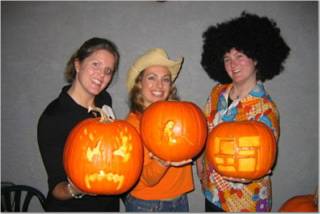 We opted for secret ballot voting. Eia, Dem, and I tied for 2nd. Some guy who did something with a wolf and science won first. Whatever-- look at us!! We're so pretty!! And our pumpkins! Nothing short of works of genius. (My Fro makes me 6'4)


A close up of Dem's pumpkin carving skills. Truck it up, babe.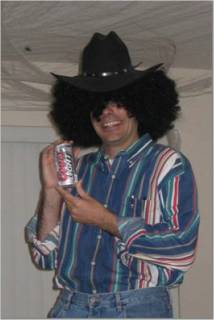 Honestly, it wasn't really a party until Slash showed up. I never really considered him a Coors Light man, but look how he enjoys it!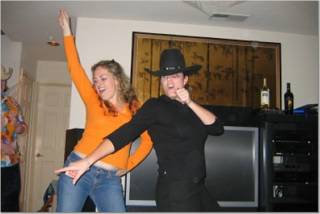 Do you see what a little Bon Jovi does to these people? Its a sight to behold, I say. May their routines continue to be tighter than his pants and more free spirited than his hair, forever and ever, Amen.

Tomorrow, we hit Vegas en masse. 25 (Twenty-friggin-five) people will descend for some Peppermill and Bobby Flay action. As there are some very special birthdays in November, we feel the need to celebrate in style. And while all these birthday celebrants are stellar individuals, there is one who deserves special note...

HAPPY BIRTHDAY DEM!!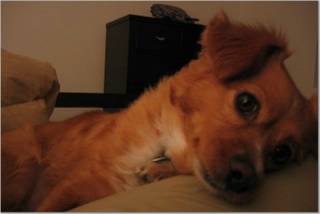 Happy birthday, Mommy!