When Chemicals Attack : Stupid People Learning the Hard Way
Blah, blah, blah duct tape party... and there will be PRIZES!! Not just any prizes, either-- goddamn handmade-with-love prizes that are slowly stripping me of skin tissue and patience. Oliver and I started this project yesterday, intending to make a trophy for the best dressed duct taped participant.
So we started with a plaster mold...
...that soon after became a plaster mold trapping my hand in 10 gajillion degrees of fire. Here's a fun fact, kids-- plaster has a
chemical reaction
to water!
140 degrees of heat makes your hand look real pretty...
...and I my hand fell into a burning ring of fire. And its burn, burn, burn...
And after that? The mold
broke
. Tonight we went for round two: papier-mâché (thanks, Jack).
Oliver got to be the hand model for this experiment. Here's the first round of application...
...and a fancy shot of the mold under the halogen.
And when that was finished, we tried to fill it with a spray-foam-mold-stuff...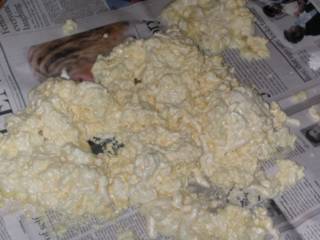 ...that
exploded
...
...and has since refused to come off of anything it came into contact with. Namely? Me. I cannot feel my fingertips. I have been trying to pull, wash, scrub, and scrape this shit off for a few hours now and predict that I'll have hours and hours more fun doing the same and still getting nowhere.
But the prizes will kick ass.
(ETA: The foam spray hardened over night. I feel like I am wearing a sandpaper glove.)